Smart heating thermostat installers in London
Ever come home to a freezing cold house because you came home early and the timer hadn't yet kicked in. Or laid in bed that little bit longer as you didn't want to get up in the cold?
Well, no need with smart heating devices. A smart heating system allows you to control the heating in your home using your phone or tablet, or even voice-activated controllers.
These devices control your thermostat and have inbuilt machine learning, so can start to understand patterns such as when you go out to work, or to bed and adjust your heating accordingly.
You can also use smart heating thermostats to 'zone' your home. So having differing controls over different parts of your house.
Using smart heating can really save you a lot of running costs as you are able to turn the heating on and off remotely, meaning that you have a lot more control over when your heating is on – no more accidentally going out to work and leaving your radiators on all day.
Also, if you are away from your home for an extended period of time, such as a holiday, you can be safe in the knowledge that you can control the heating if needs be to avoid issues such as burst pipes in cold weather.
Smart heating device installation will sometimes be included in the costs of purchasing the device if you are using one of the main providers, however, there are now a lot of different versions available on the market, some of which will require the services of a plumber and /or an electrician.
At SW Electricians, we have a wide range of experience in installation and maintenance of smart home heating devices, so get in touch with us today for a no-obligation quote.
Tado Smart thermostat
This minimalistic, efficient and easy to use thermostat compared to similar brands with futuristic design will blend with your walls and will be nearly invisible to the eye
Can be controlled by Apple HomeKit, Google assistant and Amazon Alexa
It works well with any central heating system and is even supports extra low voltage as well as high voltage ( 230v ) systems.
Starter Kit V3+ with hot water control would be the best solution for any property.
Such bundle will allow to control both central heating and hot water. And if you need more, Tado also sells AC and Radiator controllers which will work well together in one app.
For more details you can visit official page of the brand: click here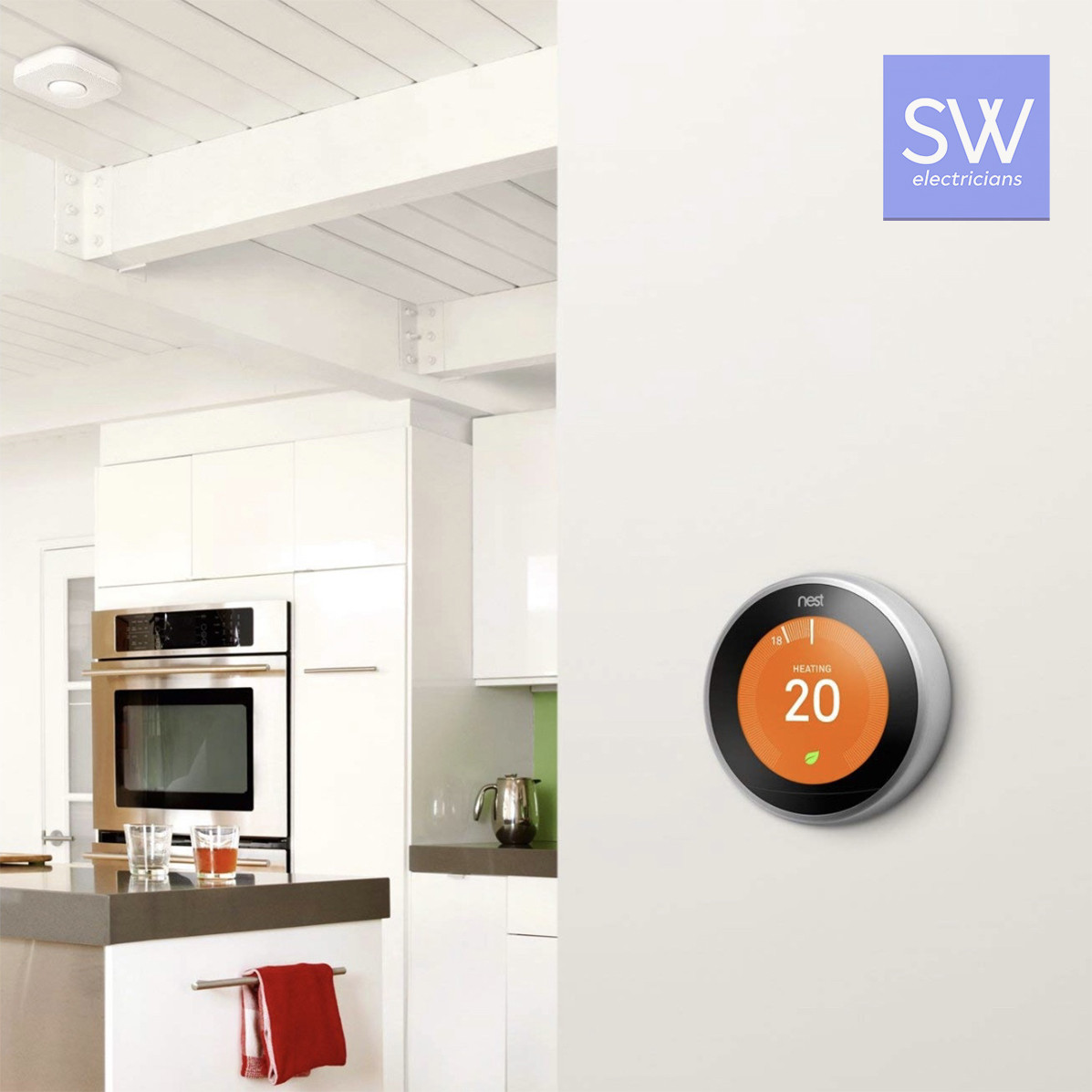 Nest Smart thermostat
Very stylish and eye catching futuristic design, for people who prefer something completely different and very smart looking. Is very simple in use, learns as you go predicting your schedule
Can be controlled by Google assistant and Amazon Alexa
As other thermostat it is compatible with nearly all heating systems as underfloor heating, gas/oil boilers, heat pumps.
3rd Gen Nest Learning Thermostat could be the choice for you
It can control both central heating and hot water, it can smartly adjust itself depending on the weather outside and your preferred temperature. It uses the location of your phone and activity sensor to avoid heating an empty home.
It would be a good addition if you already have other Nest devices such as Google Nest Hello video doorbell or Google Nest Mini home assistant.
For more details you can visit official page of the brand: click here
Hive Smart Thermostat
Another good choice if you are looking to replace your old thermostat with something new. Easy to use and control, has an interesting design closer to the look of the nest but keeping the hard edges giving it more of a traditional look. Has a unique option to choose between 12 different frame colours to match the thermostat to the design of your home
It is compatible with nearly all heating systems and can be controlled by Amazon Alexa, Google assistant and Phillips Hue
If you have a hot water tank (conventional boiler) then Hive Active Heating and Hot Water is right for you. If you do not have a hot water tank (combi boiler) then Hive Active Heating is the one to go with.
It has an interesting future such as automatic frost protection, which helps to prevent pipes from freezing as well as a holiday mode, which means that you can tell hive your holiday dates and it will automatically warm your home for your comeback.
For more details you can visit official page of the brand: click here
Get your smart thermostat system installed in 3 simple steps
Call or email us for an estimate and availability and make an appointment
A fully-equipped professional will pay your London property a visit
Enjoy a smart thermostat that meets all electrical regulations in the UK and safes you money.
Electric smart water thermostat
In addition to controlling your heating, there are devices which will also allow you to control your hot water. For example, if your home has an old water tank system you will know the inconvenience or realising that you have not turned on the supply and having to wait for it to heat up in order for you to have your morning shower, or enjoy a relaxing bath at the end of the day.
Smart hot water devices, like heating thermostats, can allow you to control this remotely when out of the house, so you can step straight home and into a nice hot bath without waiting.
Using smart devices to control your hot water can also help you to save money on your gas or electric bills as you can choose when to turn on and off your hot water heating. While traditional timers on boilers would have allowed you to set specific days and times, using a smart device means that you can control things from outside of the house, or in some instances, your system will even learn to understand your families patterns and adjust accordingly.
What is a smart thermostat?
The name talks for itself. Smart thermostat is a simple replacment of your old thermostat but smarter.
It has many cost saving features such as temperature control of your water and HVAC system (central heating and cooling), setting a schedule and turning heating off completely. All of which can be done in the usual way on the thermostat itself or remotely through the app on your smartphone.
Do i need a smart thermostat?
If you are looking to save money on energy bills and convenience than yes. Smart thermostat is a reasonable upgrade.
By setting a schedule for heating to work only when you need it and an opportunity to control your hot water and central heating remotely, without any fear that your radiators will work on maximum whole week while you are on weekends abroad. It is predicted to save you around 15% on your energy bills or even more.
Can i use a smart thermostat?
Yes, modern smart thermostats are compatible with pretty much any central heating or cooling system
You might find some precautions on the web that smart thermostats work only with 24 volts heating and cooling systems (HVAC) and do not work with high voltage systems ( high voltage thermostats are usually labeled 240 VAC ) or any of the proprietary systems ( thermostats with non standard labels such as 1,2,3 or A,B,C )
From one point, yes that is true. If your current HVAC system is running of high voltage, is proprietary or in very rare situations run of even lower voltage than 24 volts. The replacment of the thermostat will not be as straightforward and you won't be able to replace it yourself. However, with help of the professional it would be possible. As any system can be rewired or altered in order to make smart thermostat to work
Which one is the best smart thermostat?
There is no straight answer, as all smart thermostats work in similar way and do not have any killer features compared as they are all designed for same simple purpose, to control the temperature.
Therefore in order to decide which one is the best for you, you should consider smart home system you are currently using such as Apple HomeKit, Amazon Alexa or Google Assistant, other smart devices of a similar brand that could be used in the same app and compatibility of smart thermostats with different boilers and HVAC systems.
In no particular order, these well known thermostats might be the best for you:
Tado Smart thermostat
Nest Smart thermostat
Hive Smart Thermostat
What other services can you provide?
Some of our most popular service listed below, if you can't find what you need below, please contact us
House Rewiring
Downlights
Smoke and Fire Alarms
Fitting New Lights
Additional Sockets Installation
Partial or full Kitchen wiring
Cooker points
Switchers and Dimmers
Consumer Units / Fuse boxes
Garden Lighting
Outdoor Lighting / Sockets
Domestic rewiring
Landlord Electrical Certificates
Door Entry Systems
Smart home installation
Commercial rewiring
Electrical inspection
Car charging points
Ambient lighting
Sound system installation
Do you cover South West London?
Yes, we cover all areas of South West London including the boroughs of:
Kingston upon Thames
Lambeth
Merton
Richmond upon Thames
Sutton
Croydon
Wandsworth
Do you cover West London?
Yes, we cover the following boroughs:
Hammersmith
Fulham
Harrow
Hillingdon
Brent
Hounslow
Kensington
Chelsea
Ealing